My kids head back to school on August 9th. AUGUST 9th!!! How is it possible that we are a mere two weeks away from school starting. This year is flying by…which means the summer has flown by as well! I am sure some of you still have a few weeks of summer left so just stash this post where you can find it when you're ready to start!
We are pretty ready…I think! Uniforms are hanging in the closet. School supplies have been purchased, organized and are in the kids backpacks. We have back to school night next week, we'll get to see the teachers, classrooms etc and drop off all the supplies ahead of time. My third child is SO excited to be starting kindergarten and I am so excited for her too because her teacher is AWESOME!
I am feeling a little ahead of the game but I have some more things I feel the need to prepare. Along with the start of the school year also comes the start of my job for the year. I will be working in the afternoons program at the kids school. I am so excited to have this job again after taking a year off when Josiah was born. I am also a little sad to be leaving my two youngest while I go to work. Isn't that a constant struggle…when you're home all the time you want to work but when you're working you want to be home! Well, it is for me at least.
In order to prepare myself a little more before we head out the door for school I am doing a few things. I am going to print out some great lunchbox notes, cut them out and put them in my cabinet so they are ready for the lunch boxes. Then I don't even have to think about that anymore. My kids LOVE telling jokes so I will make sure to print the lunch box jokes from Paging Super mom.

And these from Kiki and Company are great too!

Kristi, at I Should be mopping the floor has some great ideas for what to send for lunch. She also included a printable of some super cute love notes to throw in the kids lunch boxes as well.

My older two kids have a new teacher this year, so I love this "teacher questionnaire" from the girls at eighteen25.

I absolutely love this teacher gift that Cindy has on her Skip to My Lou blog. Let your child's teacher know that you are willing to give them a hand whenever they need it. Plus, doesn't everyone that has children with them all day probably need some soap!?!

I'm sure the teachers wouldn't mind a little salty/sweet treat to start off the year either. Check out this cute tag from Bonnie at Simply This and That.

I also love these reuseable mugs and tags that The Crafted Sparrow made to give to her kids teachers. I may just have to make a couple of these as well!!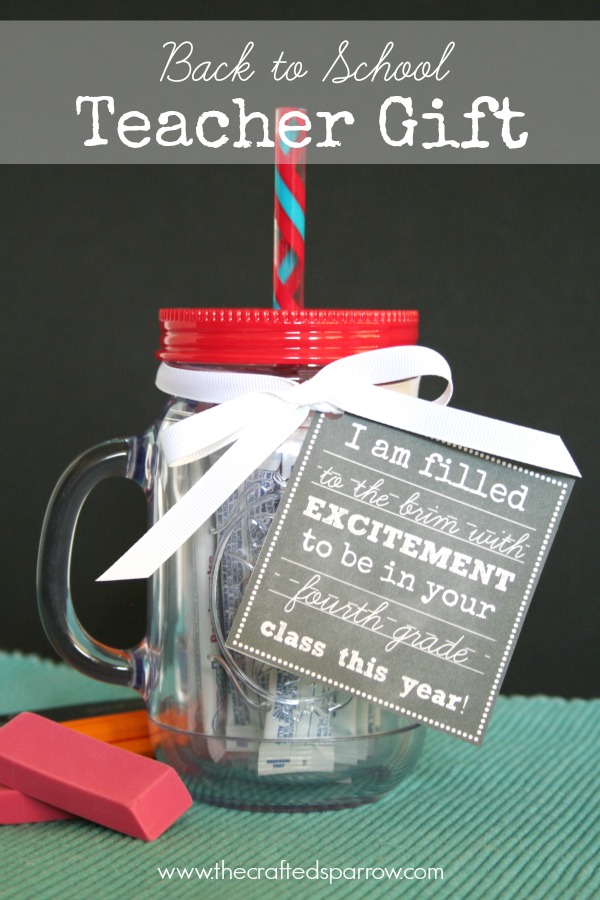 I don't think I'm ambitious enough to throw a back to school party but if you are Amanda's parties has you covered. She has a great set of free printables on her blog!

I love the idea of a fun back to school dinner. There are some great ideas and links to some great printables over at Marci Coombs!

And don't forget to have your kids stand out front of your house with their sign telling which grade they are going into! There are so many fun signs out there and you can totally make your own just by writing it on a chalkboard but I love these printables from Kristin at Yellow Bliss Road. She also included a printable interview for the kiddos to fill out on their first day of school. It's always fun to see how much they learn and grow.

I created this little printable for you as well. I thought it would go great as a stand alone gift, something you could frame or make a tag with it and attach it to a small gift! Just right click on the image and "save as". I'd love to see how you use it! Tag me on instagram!! #purejoycreative
Next month we'll talk freezer meals. I always like to prep a bunch of freezer meals each month just to make sure we're not eating out more than we should be. I have also organized a freezer meal swap so I'll be sure to tell you all about it in August! Happy Back to School!!!
……