Guess what!
It's Thursday so it's time to party! Wooo!!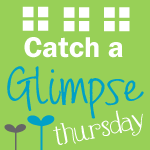 I don't have a craft to share this week but I do have some simple blogging tips for ya.

So if you want to learn more about:
-How to attach your email address to your profile
-How to turn OFF word verification
or
-How to add a button to your blog
Check out this post.
Now who's ready to party?!
Rules:
1.) Link up any crafts, recipes, home decor, tips, etc.
2.) PLEASE be sure to link to your specific post not your general blog. (I will delete any posts that do not follow this criteria.)
3.) Add my button or a link to my blog in your post or somewhere on your blog so others can come party too. (You can find my button code in my sidebar.)
4.) PLEASE visit and comment on the post before you and after you, on top of any others that catch your eye. Everyone loves comment love!
5.) And most importantly… HAVE FUN!!