It is time for another Catch a Glimpse party!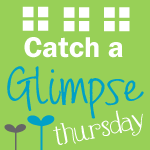 REMINDER: E-Mealz Giveaway is still up for grabs! Entries are low so great chance of winning.
Come enter before it ends at 6pm this evening!
And, I don't have anything to share this week but if you didn't see my post yesterday, it's all about your questions for ME! So Come on over and check it out and ASK ME ANYTHING!
What do you have to show off this week?
Rules:
1.) Link up any crafts, recipes, home decor, tips, etc.
2.) PLEASE be sure to link to your specific post not your general blog. (I will delete any posts that do not follow this criteria.)
3.) Add my button or a link to my blog in your post or somewhere on your blog so others can come party too. (You can find my button code in my sidebar.)
4.) PLEASE visit and comment on the post before you and after you, on top of any others that catch your eye. Everyone loves comment love!
5.) And most importantly… HAVE FUN!!