It's Party Day!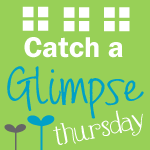 Just want to give a head's up… I am flying to TN today for my baby shower this weekend so there MAY or MAY NOT be a Feature Friday post. As I sit in the airports, as long as I have wifi, I will go through all the links and try to get the post up but NO promises!
What fabulous ideas do you have to share this week?

Rules:
1.) Link up any crafts, recipes, home decor, tips, etc.
2.) PLEASE be sure to link to your specific post not your general blog. (I will delete any posts that do not follow this criteria.)
3.) Add my button or a link to my blog in your post or somewhere on your blog so others can come party too. (You can find my button code by clicking on the button icon in the top, left column.)
4.) PLEASE visit and comment on the post before you and after you, on top of any others that catch your eye. Everyone loves comment love!
5.) And most importantly… HAVE FUN!!