Are you ready to share your creative ideas this week?
Cause it is PARTY TIME!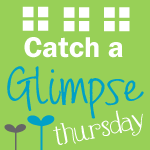 I am so bummed!
I was hoping I would have something to share this week but it has been a crazy week.
Travis and I will be flying out to CO later this evening for a house hunting marathon so we've been looking at houses, and looking at houses, and narrowing down houses, and looking some more at houses online before we get out there.
So, hopefully I will finally have something to share next week if all goes well with a project that should have been so easy and has turned into a giant pain.
BUT… BIG NEWS if you are a blogger in the Richmond, VA area!
Michelle from Dream Home DIY and I have teamed up to plan a fun day out and meet up!
O
ur day will begin with lunch at The Cheesecake Factory in Short Pump Town Center followed by an afternoon of shopping

(to include stops at Hobby Lobby, Home Goods, and Pottery Barn)

, all while
chatting, laughing, and sharing creative ideas with each other.
If you would like to attend (and gosh, we sure hope you do) please RSVP by visiting the Sweet Tea Social Event Page no later than October 2nd, 2011.
We'll need your name and the name of your blog in your RSVP (as well as any additional guests you might be bringing)
If you would like to attend, you can visit my
Sweet Tea Social page
to read all about it and also grab a button letting everyone know you are attending.
Plus, we have the invitation you can grab and help spread the word.
HOPE TO SEE YOU THERE!
Now, onto the party!
Rules:
1.) Link up any crafts, recipes, home decor, tips, etc.
2.) PLEASE be sure to link to your specific post not your general blog. (I will delete any posts that do not follow this criteria.)
3.) Add my button or a link to my blog in your post or somewhere on your blog so others can come party too. (You can find my button code by clicking on the button icon in the top, left column.)
4.) PLEASE visit and comment on the post before you and after you, on top of any others that catch your eye. Everyone loves comment love!
5.) And most importantly… HAVE FUN!!