Hi All!
Aimee is visiting today with a cute little lunchbox made out of an old suit coat.
Take it away Aimee!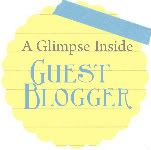 I am so excited to be blogging over here at A Glimpse Inside. Hooray! I'm pumped about the opportunity to give you a little glimpse inside my own life & blog. I'm Aimee, a 26-year-old Christian, wife, teacher, and (of course) blogger.
My blog Someone's Gotta Pay was born last summer after I read the book Everyday Justice by Julie Clawson and was surprised to learn about the ways that many of my everyday choices impacted people around the world. The clothes I wear, the food I eat, the chocolate I snack on, the coffee I buy — all of these have a story. And many of the stories aren't pretty: sweatshop labor, pollution, modern-day slavery, child labor. Julie Clawson offers several ways that one can make little choices to fight against these issues. And so a whole new world was opened up to me, a world of fair trade, organic, and green options. And I needed a place to write about this new world.

So if you head over to Someone's Gotta Pay, you might find me blogging about the fair trade chocolate I'm buying, the reusable bags I'm trying to remember to use, the desserts I'm making with "ethical" ingredients, the companies I'm reviewing, or the upcycled crafts I'm making.
That's what I thought I'd share with you today. One of the ways I try to make little choices to love people around the world is by being environmentally conscious and trying to avoid buying items made in sweatshops. So I've become a crafter of reusable materials, such as an old suit coat from the thrift store.
The suit coat cost me $2.00, and it has already been made into a few different projects. (I forgot to take a picture of the original coat, but just imagine the material below in the shape of a suit jacket. Yep. That's what it looked like before.) One such project is this little lunch box.
To be honest, I don't sew. But I love dreaming up ideas and convincing my wonderful mother to sew them for me. So I dreamt up this lunchbox and cut out the fabric – strategically placing the coat's original pocket in front. Then I passed the rectangular pieces over to my mom, and she did the real work.
I love how it turned out. (Isn't my mother talented?) It has plenty of room for all the essential school lunch ingredients, and a pocket to stash an extra snack.
Thanks for letting me share this little project today. Feel free to stop by Someone's Gotta Pay to see some of my other attempts at making old things new, and I'd love to hear your upcycling ideas too!
Very cute Aimee!
Thanks so much for guest posting for me!
I appreciate it! 🙂