Hello, everyone! My name is Amy, and my blogging home is
Positively Splendid.
It is my goal for my blog to be a haven of DIY and crafting inspiration where creative minds of all skill levels can come and feel right at home. I would love for you to stop in for a visit!
I am so happy to be here while Allison enjoys some snuggle time with her sweet baby girl!
With the advent of summer, I invariably crave one ingredient in particular:
basil.
The bright, slightly spicy flavor of this summery herb lends such delicious depth to so many dishes, but my personal favorite way to showcase it is to make pesto. Today I'm sharing my tried-and-true pesto recipe, which couples basil with fruity, fragrant sun-dried tomatoes. So simple, yet so delicious! In this recipe, I toss the pesto with farfalle, but you could substitute any other textured pasta (rotini, penne, and the like) that suits your particular tastes. Coupled with grilled chicken or fish, this is truly the perfect light summertime supper!
Sun-Dried Tomato Pesto with Farfalle
1 cup basil leaves, lightly packed1/4 cup pine nuts, toasted1/2 cup sun-dried tomatoes in olive oil1 clove garlic1 tablespoon oil from tomatoes3 tablespoons olive oilSalt and pepper, to taste 1/4 cup freshly grated Parmesan
Place basil and next three ingredients in the bowl of a food processor. Pulse 4-5 times, so that the ingredients begin to become incorporated. With the processor running, drizzle in the reserved tomato oil and then the olive oil. Process until the ingredients are thoroughly combined. Mix in salt and pepper. Place pesto in a bowl and stir in Parmesan.
Prepare the farfalle according to the package directions, reserving 1/2 cup of the cooking liquid before draining. Place the pesto in the bottom of a large pasta bowl, and pour the drained pasta directly over the pesto. Add 1/4 cup or so of the cooking water, and then toss the pasta with the pesto, adding a bit more water if necessary to loosen up the sauce so that it thoroughly coats the pasta.
***

Thanks so much to Allison for having me over today!
Y'all are welcome over at Positively Splendid any time!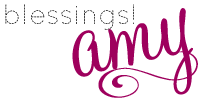 Thanks so much for sharing this recipe Amy!!