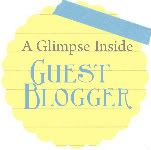 Greetings all! I'm so excited to be guest posting here at A Glimpse Inside while Allison is away. I'm Carol and I blog over at "The Answer Is Chocolate" where I combine my love of all things crafty with my love of all things chocolate.
I'm deep in Thanksgiving decorating mode, wanting to make this year extra special since it will be a first Thanksgiving of sorts. Our son left for college out of state in August and Thanksgiving will be the first time he'll be home for a visit. He won't care about the decorations but I think he will care that I wanted to make it extra special. Today I'm sharing a banner I made for our dining room.
I love all things paper ( OK I love a LOT of things!) and got the idea to do an oak leaf banner. I wanted there to be some texture so I cut the leaves on my Cricut Expression but decided they needed some texture. I grabbed a textured stamp from my supply, inked it up with clear embossing ink and them covered them with detailed silver embossing powder:
I also knew I wanted this to have some sparkle and needed an excuse, er um a compelling reason to play with tinsel glitter.
I cut out more leaf shapes, and covered them with champagne tinsel glitter. I used Recollections brand from Michaels.
But what are oak leaves without acorns? Using the same Cricut cartridge ( Doodlecharms) , I cut acorns from metallic gold paper and then went over the caps with copper glitter glue:
The final piece of my banner was this organza tulle I found at JoAnn's in their 2 for $5 section. Oh my they have got several gorgeous colors, many of which I may or may not have bought.
To put it all together, I took a couple of the embossed leaves, a plain leaf, and a tinsel glittered leaf and formed a "clump" of leaves. I covered clothes pins ( my favorite way to hang banners) with some glittered paper scraps and then put my acorns on top using a foam dot.
I twisted two colors of the organza tulle together and draped over two framed prints in our dining room and then clipped my oak clusters on.
I think this will really twinkle in the candlelight of our Thanksgiving meal. If anyone has any questions about this, please don't hesitate to pop over to my place or drop me an email : https://answerischocolate.blogspot.com/ theanswerischocolate@comcast.net. Or, you could just drop by for a visit!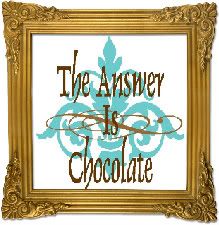 It looks fabulous Carol! Thanks so much for sharing!