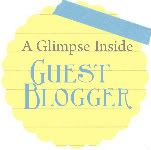 Hi, A Glimpse Inside readers, I am "the" CSI girl. You can find me blogging and operating, The CSI Project everyday.

My hope is that when you come over to the blog, you leave inspired! I also hope to encourage you to Create, Share and Inspire. Come on over for a new challenge, new tutorials and new winners every week!I am so happy to be here at Allison's place. This is one of my favorite blogs that I visit everyday.Best wishes on your move, Allison!
Today, I am sharing a quick and easy neighbor or friend Christmas gift. I love this because it is easy but also personalized so the receiver feels special and that's part of the fun of Christmas, making others feel special and loved.
All you need is:
~ glass ornaments( I bought mine at Hobby Lobby 30% back in September. I was way ahead)

I loved all of the shapes they had. So many choices.
~ Glass Etching cream(found at any craft store)
~ Stencils
~ tape
1) Pull out the stencils of the letter you want to use. You could spell a word but for mine, I kept it simple and just did the families last name initial.
2) Tape down your stencil
3) Now, use your etching cream as directed on the bottle. It is simple. Just fill in the stencil and wash with water. Be sure to test it first.
It may seem intimidating, but really it is easy and you can do so many projects once you get the hang of it!
That is a CSI Promise, friends!

4) Finally, take off your stencil and finish the etching process and you are done.


Now, I can give these to our neighbors and friends. After I did these, I had another idea to make a holiday centerpiece for my table. I etched the words, Ho Ho Ho and added greenery.There are so many possibilities using etching cream. I hope you will try it out and make your own Christmas gifts.
~ Thanks for having me, Allison.
I hope you all have a wonderful Thanksgiving and a very happy holiday season!
Stop by The CSI Project and join in all of the fun.Consider this your personal invitation.

Thanks so much for sharing Dee!! 🙂