I'm officially on my way to Creative Estates,

WhOOOOOO

, so Heather from Family Volley is here with a fun food activity. Take it away Heather!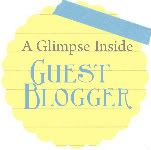 Hi, I am Heather from Family Volley. I am really excited to be guest posting for Allison here on "A Glimpse Inside". I am sure she is having a wonderful time at Creative Estates.
I am a mother of three (almost 4) and a professor at Brigham Young University where I teach Family Psychology.
Family Volley answers all your parenting, mothering, and marriage questions. Every Friday there is a new and fun game/activity for you to do with your family.
I hope you will stop by.
Today I want to share with you one of our families favorite activities.
SWEET SUSHI
I know your family will love it also.
Whether you like seafood or not, this is a perfect activity for you.
YOU WILL NEED…
-Twinkies
-Fruit Rolls
-Candy (colorful and small)
FIRST: FRUIT ROLLS…aka Seaweed
Use Grape and Green Apple, they look just like seaweed.
Unwrap your fruit rolls and use a pizza cutter to cut them into strips. 1 1/2 inches or so.
NEXT: TWINKIES…aka Rice
Unwrap your Twinkies and cut each one into three pieces.
NOW: See the cream filling? With the filling side up, Take one piece of Twinkie and roll it up in a strip of fruit roll.
NOW: THE CANDY…aka fish, veggies, toppings
Here comes the fun part. We used Skittles, Mike and Ike's, Sugar Babies, and Gummi Worms (cut in half). You can use anything you have on hand. With Easter coming up, I see jelly beans in our sushi's future.
GET CREATIVE:
Add a few pieces of candy to each piece of sushi. Just push them right into the filling. I also like to use the left over pieces of fruit roll to make them even more
fancy
.
There you have it…Sweet Sushi.
You and your family are going to love them.
These would also be great for parties. Birthdays, graduations, baby showers, book clubs, random Tuesdays.
You could also leave the fruit rolls and Twinkies uncut, and simply roll the Twinkie up whole in a fruit roll. Then, just like if you were eating real sushi, you could cut the roll into pieces. You will need a really sharp and serrated knife. If you are doing this with your kids, it will make the activity a lot quicker. That can be a good thing, or a bad thing.
It was so fun to be here on A Glimpse Inside. I hope you will stop by Family Volley and say hello. Drop by my Facebook page and leave a picture of your sweet sushi. I would love to see it.
Do you have a question about your family or kids you would like answered?
How fun are those!?! LOVE THEM!
Thanks so much for guest posting for me Heather! I appreciate it!