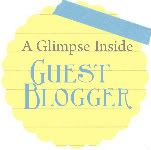 Hello! My name is Gina and I blog at Hiya Luv! I am so happy to be guest blogging At a Glimpse Inside. I just love Allison's blog and visit often for ideas and inspiration. Today I thought it would be fun to share a simple but fun craft project with you.
Hiya! My name is Gina.
I have been working my fingers to the bone preparing for my upcoming craft show in early December. I am starting to prepare months early because a.} this is the biggest craft show I have ever done with well over 100 vendors and b.} it is near the holidays and I am really hopeful that people will be in a buying mood. *the economy is tough y'all.
In hopes of making my wares that much more appealing to the eye, I want to make sure that my booth is decorated and grabs the consumers attention. I am going to teach you how to make a fun fabric garland that is super easy. In fact I made mine while sitting on the couch watching the World Series.
Here is what you need to do before you get started.
1. Go through all of your fabric scraps. Anything that is somewhat long put in your pile to use for the ribbon garland. I used all lengths to give it depth. You can do all one length; it really doesn't matter.
2. Find your favorite scissors.
3. You will need yarn to tie the fabric scraps on to. The yarn can match but it doesn't have to.
Now that you have all of your supplies, get comfortable on the couch.
Lay out your fabric strips. Start knotting your strips one by one on your yarn. I rotated colors and you can do that too or do all one color. The beauty of this project is that there is no right or wrong way to do it. After tying all your fabric strips you can adjust them. You can spread the strips out our make them tighter by pushing them together. Have fun!
Thanks Allison for letting me guest post today and thanks to YOU for reading along! I hope you enjoy this super fun and easy project.
Love it Gina and good luck with the craft fair!