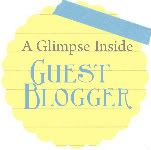 Hey there!
I am a Christian, Wife and Mother. My days are spent doing different therapies with my son, who has Cerebral Palsy, and picking up after my daughter, whose favorite activity at the moment is to to see how fast she can wreck our entire house. At
Johnny In A Dress
, you will find crafty tutorials mixed in with glimpses of my day to day family life!
Johnny In A Dress
has become my journal and I am love for you to stop by!
I am so excited to be here today!
Allison is soooo sweet and A Glimpse Inside is one of my all time FAVORITE blogs!
Love it!
Ok, so, today I wanted to show you how to create a $2 Merry Christmas Plate! 
I fount this plate and "Merry Christmas" ornament at the dollar store!
Next I took the plate outside and sprayed it with water…
(I know this sounds super strange, but trust me!)
Then I got out my red spray paint and sprayed the plate… 
and took a paper towel and dabbed the plate to create the "mercury glass" look on the plate!
(sorry this pic is awful… it's super hard to dab and take a pic at the same time)
I ended up with this:
After the plate was completely dry, I took it inside, got my E-6000 out and… 
put the glue on the back of the Merry Christmas ornament!
Then I stuck it onto the center of the plate and put a bag of drawer pulls on it!
(you don't HAVE to use a bag of drawer pulls, anything with a little weight to it will work)
Then I ended up with this: 
Oh yea, and just to let you know, the Dollar Store has some cutie ornaments this year!
Thank you so much Allison for sharing your readers with me today!
Merry Christmas! 

Thanks so much for sharing your adorable plate Natalie!