Kathy has a fun Specimen Art Tutorial for you all today.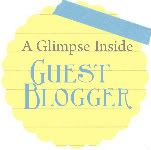 Hi, I'm Kathy from Dandelions and Dust Bunnies. My yard is speckled with those pesky dandelions and my house has a few dust bunnies lurking about here and there. So that's how I came up with my blog – in hopes of weeding out the bad and replacing it was fun crafts, recipes, thrift store find remakes and home decor projects that are a little more pleasing to the eye.
Today I wanted to share with you some fun sunflower specimen art. I figured with summer shortly around the corner, it wouldn't hurt to get a jump start on a summer decor project.
Specimen art is so simple and fun. I just can't resist the look of all those neat rows. I started off with these supplies:
I used my scalloped square punch and cut out a bunch of squares.
If you don't have a square punch, you could use a circle punch, or even your paper cutter.
After you cut out all your squares, attach them to the cardstock with some double-sided tape.
I also had a rub-on to add the word summer, but you could use stickers, vinyl or print a saying on your printer.
Then attach your stickers. I found these sunflowers at Michael's. They have quite the selection of many different varieties of flowers you could use.
Now your work of art is ready to frame. Since the stickers stand out quite a bit, I just put the glass behind the art to save for another day.
There you have it – super easy specimen art. The possibilities are endless.
Thanks so much Allison for letting me share my specimen art.
Super cute Kathy!
Thanks so much for guest posting for me!