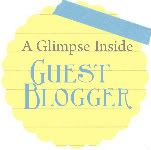 I am excited to be visiting here on A Glimpse Inside! I got to meet Allison in person at Creative Estates and she is such a cutie!
Hi, I'm Michelle from…
So I was walking in to Walmart (the necessary evil) on November 1st and they were playing Christmas music! C'mon, I love Christmas just as much if not more than the next girl, but what ever happened to Thanksgiving? Why is Christmas decor in the stores after back to school? Anyway, I want to enjoy each season so I am putting my foot down and sharing, get this, a Thanksgiving craft in November. Shocking right. I live on the edge.
So here it is, my fun little turkey friend for the kiddos I have lovingly named…
Terrence the Turkey


He may be a little shy at first, but once you get to know him he is a total Butterball.
Supplies needed:
2″ Styrofoam ballSerrated knifeBrown paintFoam Brush5 CrayonsPointy nosed penBrown cardstockYellow cardstockRed CardstockScissors



1. Slice off the bottom of the ball with a knife so it will sit flat.


2. Paint the ball brown.
3. In the center of the ball, push the pen in to the styrofoam about 1/2 inch to make a holes for the crayons. It has to be in the middle straight to the center or the crayons will tip the ball over.

4. Cut a body shape, beak, and gobble out of the cardstock.


5. Use your knife to make a slit in the styrofoam in front of the crayons to slide the body in.


6. Hot glue the beak on. Cut a tiny slit in the gobble and slide it on to the beak.


Find a nice place for him on the kids table…

or set him free to roam.

Thanks for letting me stop in and feel free to swing by and visit Terrence and I any time over on A Little Tipsy!
Adorable!
Thanks so much for sharing!!