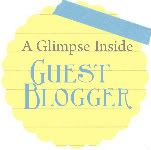 Hi Glimpse Inside readers (:
We are twin sisters Kelli & Kristi from
Lolly Jane
and are simply thrilled to share our kick off to Christmas decor with you all.
Our little corner of blogland is filled with for home improvement tips, craft tutorials, holiday decor, recipes and a good before&after or two. We love how small touches of decor can customize a space and instantly make it yours.
Today we'll be showing you how to make a classy Christmas card holder, our version was FREE (:
While browsing Joann's new coupon mailer last week, we spied this chic display and knew we could easily pull it off.
We used a recently inherited not-our-style gold mirror, originally intending to spray it hot pink for Kelli's daughter's room. Well, this was the perfect time to use it as-is, yay for free!
Supplies:
Gold Mirror.Red/White Bakers Twine.4 Eye Hooks.10 Mini Clothes Pins.Ribbon/Embellishments
Directions: Clean mirror. Screw in eye hooks: make 2 rows on back side of mirror about 6 inches apart, first row should be 1″ under top of mirror. Double up bakers twine for strength. Tie knots around eye hooks, it's now ready for clothes pins.
Thanks for sharing that great idea ladies!