Another fabulous guest is here today.
Mandi is here with a yummy recipe.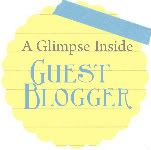 Take it away Mandi!
Hiya! I am Mandi, I have a small little blog called Mandi Being Crafty! I am a self proclaimed geek who loves to craft!
I am BEYOND excited to be posting for Allison today! This is actually my first EVER guest post so if it is a little rough around the edges I do apologize!!!
Recently my hubby, Sgt Army Pants, had surgery because of a spider bite he got while in Iraq. If you want all the gross details you can read it here. But if not that is fine by me too! Besides the fact that he had surgery and wasn't feeling a perfect ten, I was a mess. My husband does most of the cooking in this house. So needless to say I needed to pick up some slack and make dinner.
One of my friends on Facebook posted a recipe for a pork roast that sounded yummy. We have tried it before but since the instructions were so simple I figured I wouldn't be able to mess it up. (I have messed up making Hamburger Helper before) So I am going to share with you! If I can make this I am sure anyone can!!!
Jalapeno Apricot Pork Roast (slow cooker)
Here are the ingredients you will need!
2lb Pork Roast
1 Jar of Apricot Preserves
3TBSP of Dijon Mustard
1 medium onion
1 Jalapeno diced (or you can be lazy like me and buy a can)
Crock pot
First sear your roast on all sides.
Then cut up your onion into fours and pull apart.
Mix together the apricot preserves, dijon mustard, and jalapenos.
Place the roast inside the crock pot and arrange the onion all around.
Pour the mixture of apricot preserves over roast.
Set your crock pot on low and cook for about 5-6 hours. (That way the roast pretty much just falls apart).
Serve with rolls or by itself.
If you are worried about it being spicy it isn't! My kids are picky eaters and they actually love this! I hope you guys enjoy! Please visit me at my blog!
Thanks Allison for letting me post for you!!!
Oooo, that looks and sounds yummy Mandi!
Thanks so much for sharing it and guest posting for me today!