We are in the midst of our move so here is another fabulous guest post!
Here's Kori and Tara from Mom's of All Trades.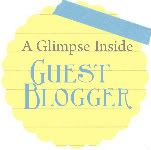 Hello Glimpse Family We are Kori & Tara and we make up
,
We haven't been blogging long but are super excited to be here and share with you a quick little tutorial to get you safe for the summer traveling!
I thought I would share a quick fun First aid kit. I am the most accident prone person, I can cut myself by looking at something sharp!! So a first aid kit is something that should never be to far away from me!
I was shopping at Roberts and they had these fun little bead holders for $1.99 (plus a 40%off coupon). The inside is meant for different beads But it actually makes the perfect first aid kit!
Simply fill with first aid stuff (band aides, Neosporin, gauze, cotton balls, safety pin, Tums, Tylenol)
And add to your purse, diaper bag, car, or perfect size for backpacks (just don't add the Tylenol I would hate for them to get in trouble!). I wrote on mine but Vinyl would also be cute.

These would also make great little gifts for neighbors and friends. Our be fun for a group activity.
We hope that you will stop by and visit our blog
That is a great idea! Thanks so much for sharing ladies!