Today, Simone from Doberman's by the Sea is guest posting for me while I am preparing for my trip to AZ for Creative Estates. Here's Simone!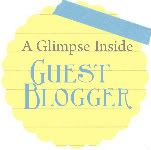 Do you want to learn how to craft with sea treasures?
Read about dog and cat adventures and dog training?
Would you love to visit beautiful beaches?
Do you love the coastal lifestyle?
Then Doberman's by the Sea is the blog for you!
Hello, my name is Simone and my Doberman's name is Bella Luna. We blog over at
Doberman's by the Sea.
I started the blog to write about my two passions, Dobermans and the Sea. We have become a multi-niche blog where you can find everything about the coastal lifestyle, dog training, crafting, decorating, and information about our German heritage, to name a few. Read more about us
here
and view our favorite posts
here
.
I hope you have enjoyed this glimpse into our lives and we hope it has inspired you to stop by. We would love to have you. I'd like to thank Allison for this wonderful opportunity! Cheers,
Thanks for guest posting for me today Simone!
I hope everyone goes stops by Doberman's by the Sea to say hello!