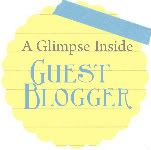 I'm Sumo! Well, my real name is Summer, but my husband nicknamed me Sumo when we were dating. (Yes, I still married him!)
It's a blog I started to share my crafting and creating. I also like to host giveaways, feature other bloggers, and maybe share some crazy ramblings about how much I love Diet Coke, or my relationships with Shirley and Lucy (my sewing machine and Silhouette). I started sewing about a year and a half ago, and I haven't looked back since! It's probably my favorite creative past time now, especially since I've got two little girls and a third one on the way!
Every Monday is Market Yourself Monday, where you can link up your latest projects, and visit other blogs to get some inspiration!
I was excited when Allison invited me to be a part of her guest posters because it gave me the kick start to get this Christmas project done for my little family: stockings!
We live near my husband's family, but not near mine. My mom has a set of stockings that she keeps for us at her house, but we haven't had any stockings to use when we stay local for Christmas – which just so happens to be this year!
My mom made our entire family (and continues to make them with each additional baby) stockings like these, and I knew they would be perfect – as well as simple – to make for our little family.
Stockings are a big deal in my family. We always do stockings first on Christmas morning, and my parents have started us all on the tradition of stuffing them super full. They often take us a half hour or more to get through, and we usually have to stop for breakfast by the time we're done with our stockings to get re-charged to open all of our Santa gifts. I've always loved this, and want to continue it with my own family.
Enter these stockings. They are big. They stretch. They are easy. And they are cute! What more could you ask for?
Here's what you need:
– fleece for main stocking pieces (I did about half a yard per stocking)
– fleece for name flap and hook (I got half a yard of white, it was plenty for five stockings -plenty!)
– Christmas fabric (I used cotton, but my mom uses flannel; I did 1/4 yard of a few different ones, just depends what kinds of patterns you want to do)
– fabric interfacing (I used
Silhouette
's of course!)
– digital cutter (not necessary, but definitely made cutting out letters easier)
– sewing machine/accessories
– pinking shears
– embellishments
Start off by printing off your pattern pieces, which can be found
here
. You'll have to do a little cutting and taping.
Pin your main stocking piece to your fleece. I had it folded over so that I only had to cut once per stocking.
This will give you two pieces.
I used my Silhouette software to create some Christmas shapes to have in the middle of the stockings, as a decoration. You could use your cutter to cut them out in fabric, but I just printed them off, cut the pieces, and then cut them in fabric. I used my pinking shears so that the shapes won't fray.
Cut out your heel and toe pieces in the fabric you want to use, as well as your shape pieces. This one is hard to see, but it's a bell. You'll also need to cut two pieces of your white felt: one piece 10″ x 5″ and one piece 10″ x 3″. Here are all of your stocking pieces.
Use your pinking shears to pink the edge of the heel and toe that is inside the stocking. Don't worry, we'll get to the rest of those parts later! Pin them, and sew them down in place on the top piece of your stocking, not to both pieces!
Here's a close up.
Sew your shape in the middle of your stocking, again, only to the top piece.
Pin your large rectangle of white fleece to the top of your stocking. Go ahead an pink the bottom edge of it. Sew it to the top of your top piece using an overcasting stitch, and then pink across the top – pinking both the white piece and the stocking piece.
Pin the bottom of your rectangle piece to the top piece of your stocking, and sew along the bottom edge, again using an overcasting stitch.
Take your other white piece, and sew it together, length wise. Overcasting stitch – it's what I used for my entire stocking!
Pink the raw edges.
Take your bottom stocking piece, and pink the top edge. Then fold over your hook, and sew it to the bottom piece about one to one and a half inches in from the side.
Pin your top and bottom stocking pieces together, and sew them together using a 5/8″ seam.
Once they are sewn together, pink all the way around the seam you just sewed. Be careful not to catch your seam!
Here's a little close up.
Follow the directions on your fabric interfacing to adhere it to your fabric. Use your digital cutter (Lucy in my case!) to cut out the names of your family members.
Iron them in place on the name place on your stockings. I was worried the fleece would melt, so I put a thin towel between my iron and the fleece while ironing down the letters.
You can sew the letters down if you'd like (and if you've used a sewable interfacing) but I didn't. I figure these aren't going to be handled a ton, and it would be a pain to stitch them down! I'm lazy like that.
You can add some embellishments to your shapes if you like. I think it adds a little character!
And now you are done!
A fun set of coordinating stockings!
We haven't picked a name for our new baby yet, but I cut out the name I want anyway, hoping I can convince my husband by the time she comes. Sneaky, right?
Thanks for having me over here today, Allison! I hope you'll all come on over to
Sumo's Sweet Stuff
, we're always having a good time!
Those looks awesome! Great job and thanks for sharing!