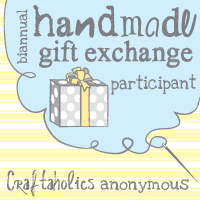 I wanted to share with you all what I made for my partner.
Her favorite color was blue so I wanted to make her a blue button and twine wreath.
And then my partner also enjoys crocheting so I thought I would paint her a box in which she can keep some yarn or her needles in while working on a project.
I added a handle to it so she can also take it anywhere in her house or grab it and take it on the go with her.
I hope she enjoys them.
I haven't received my gift from her yet. But I am looking forward to it.
If you haven't participated in Linda's Handmade Gift Exchange, I would encourage to join up in her next one. It's a lot of fun!
I'll be back this evening with a post on how I painted the box.
It's super simple! 🙂