Hi all!!
Have you heard about the competition going on over at Every Creative Endeavor, Creative Bloggers Got Talent?
I entered our nursery board and batten in the initial round and got chosen to be in the Top 20!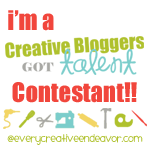 So I would LOVE your votes in this round!
But there's a catch… I can't tell you which project is mine!
I am just really hoping you guys like my project among the others and vote for it.
And if you have been following me for a while, you MAY be able to figure out which project is mine by the pictures and stuff in the background… maybe!



So pop on over to Every Creative Endeavor and cast your vote!
I'd appreciate it! 🙂