Hi all!!!
So sorry that I have been MIA this past week!
We are preparing for our next move so I have been busy, busy!
I just wanted to let you all know that starting this week through Thanksgiving, I will have some wonderful bloggers guest posting for me.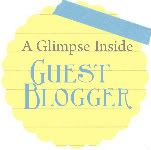 I hope you enjoy all of their fabulous posts and ideas!
They are all super talented!
I will try to check in periodically to see how you all are doing and to keep you all updated on our new house but I won't be around too often.
Of course, the Catch a Glimpse party will still occur every Thursday there just won't be a feature post on Fridays.
So, I will see you all soon!!!! 🙂