Subway art has been ALL over blogland for a while now. I have been debating if I wanted to make one, specifically a fall/Halloween one. Well, on Tuesday I saw this fabulous subway art creation from Jen over at
Tatertots and Jello
.
This totally made up my mind. I knew I just HAD to make one. In fact, I made one that night.
HOW-TO:
This isn't a very difficult craft at all.
I luckily had ALL of these supplies so this project was FREE! Those are always the best kind! 🙂
Supplies:
-Canvas or piece of wood
-Scrapbook paper
-Paint
-Paint brush
-Cricut Machine (not totally necessary though)
1. I used a canvas that I had and decided to paint it black.
You can also use scrap pieces of wood.
2. Cut out whatever words you want to use. I chose to make a Halloween one so all of my words are related to the holiday. I cut them out using my Cricut machine on different colors of card stock paper.
(If you do not have a cutting machine, you can also stencil the words on, paint them on yourself, or print out the words using your printer onto card stock, then cut them out.)
3. After I had all my words cut out, I placed them on my canvas. I played around with the layout until I got something that I was happy with. Once I was ready to glue, I took a ruler and drew some straight lines so I wouldn't have crazy crooked words.
4. I decided to cut out a couple pictures as well. As I was working, I thought it would be fun to add some glitter to my project to accent the pictures. I used orange glitter on the pumpkins to add the creases in a pumpkin, and then black glitter on the spider for his eyes. I also decided that a spider web was needed so I used silver glitter to create that in one corner.
5. And here is the final result! I love it! It will be hung in our kitchen next to our back door. I haven't yet but I think I am going to put a layer of Mod Podge on it to seal it all and protect it a little better.
I love how it came out!
It was so simple too!
I will totally be making more of these! A fall one is already in the works in my head. 🙂
And a Christmas one will be FABULOUS!!
Oh no… a monster has been created! LOL
Happy Crafting!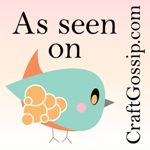 Craft Gossip
Linking up to some of these parties.
Tatertots and Jello: Subway Art Party
Craftaholics Anonymous: Fall Frenzy Party
This Blessed Nest: Fall Festival
The DIY Show Off: DIY Fall Festival