Ready for the first party of 2018?
Let's get this party started!
Share your ideas below and explore to get some new ones!
You just never know what you may find!
You can visit all of the hostesses at the links blow.
Allison from A Glimpse Inside
Becca from From Gardners to Bergers
Kim from Too Much Time on My Hands
Heather from Twin Dragonfly Designs
We have just a few easy rules:
1. Become a follower of the blog where you linked up. Or you can follow all of us and that would be awesome too!
2. Share our button or party link in your post or wherever you share your linky parties.
Happy New Year, y'all! We are excited to start a new year of our fun Must Have Craft Tips series!
If you have ideas of things you would like to see in our series be sure to let us know in the comments!
January tends to be the season for purging and organizing all the things. Once the Christmas decor gets put away, it's a great opportunity to start with a clean slate and get your home organized. This month we're focusing on your craft spaces!
I don't know about your space, but my craft space tends to look like it's been through a war post Christmas. After all the holiday crafting and gift making it's just a wreck (because who has time to clean up in between projects???).
This winter I made a lot of gifts and crafts with vinyl. And my vinyl collection is and, let's face it, has been out of control. I don't have a great system for keeping it all organized. But I'm determined to change that!
These 16 vinyl storage ideas are game changers!
Basket Storage at Silhouette School
Gridwall Organizer at Spicy Pinecone
DIY Wall Hanger at 2 Little Red Birds
Repurposed Shoe Organizer (source unknown)
Rolling Storage at Poofy Cheeks
DIY Vinyl Tower at Create and Babble
Stackable Scrap Storage at A Girl and a Glue Gun
Craft Cart at Crafty Creations with Shemaine
Shoe Rack Organizer at Silhouette School
Shoe Rack Vinyl Storage at Craftaholics Anonymous
Wine Rack Storage (source unknown)
DIY Storage Crate at Addicted to DIY
Ikea Bag Dispenser Hack at Silhouette School
Repurposed Slacks Hanger (source unknown)
DIY Vinyl Storage Racks at Jabaay Ave
PVC Pipe Storage at Craftaholics Anonymous
Did you see anything that would suit your space?
I'm leaning towards the PCV pipe organization. Hopefully I can get it implemented soon!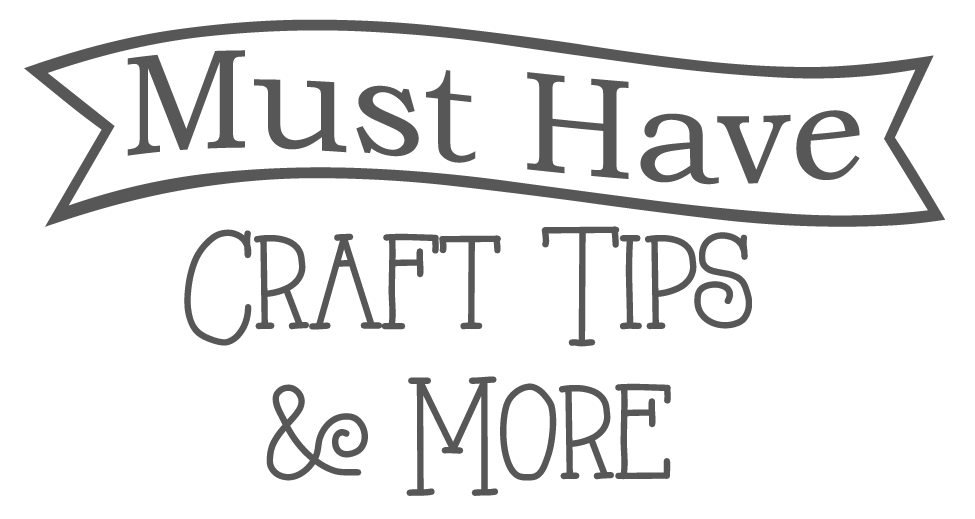 Stay tuned next Friday for more organizational ideas for your craft space!
Your hostesses,
The Scrap Shoppe | Flamingo Toes | Mine for the Making | A Glimpse Inside
This post was suppose to be up earlier in the day today and then life and rainy days got in the way so it is just making it onto the blog now.
It's the final day of February, (say what?!), and it is time for another Craft with Me post.
Today, I have a simple chore chart for you to create.
My girls are still young, 4 and 3, but I wanted them start learning more responsibility and I wanted them to be able to visually see something in hopes that I won't have to nag them to get it done.
Currently, their chores are simple like pick up their toys and put their clothes in their hamper, but my hope as they get older will be to just replace simple tasks with something a little more complex.
I decided to create the chore chart on a clip board to keep it on the smaller side, and just give each their own. Here's how I created them.
-Clip boards (found in the scrapbook aisle in Wal-Mart)
-Scrapbook Paper
-Mod Podge
-Paper Cutter
-Scissors
-Velcro
– Vinyl (optional)
-Acrylic Paint
Begin by flipping your scrapbook paper over and tracing the clip board onto the paper.
Trim with a paper cutter or scissors.
Next, you will need to slip the paper under the clip to trace the base of the clip so you can cut it out.
You could also just measure but who has time for that. 😉 lol
Trace the clip area then cut it out with scissors until it fits nicely around the base.
Slip the paper in place to double check if you need to trim anymore.
Once that paper has been trimmed paint the edges of the clip board and then the area around the clip itself.
Let dry.
Once the paint is dry, time to pull out your Mod Podge and cover the entire clip board with the glue. Make it thick, work fast. This unfinished clip board soak up the paint/glue and it makes it dry quickly.
Press the paper down onto the clip board as smooth as possible and then coat the top of the paper as well. Let dry.
I wanted to divide the board into two sides so there is a to do side and a done side.
I first thought that I would just draw it on but I didn't want to make it permanent just in case when the girls get old enough, they would just like to use the clip boards as well clip boards.
I thought about vinyl but I do didn't feel like dealing with that either but if you'd like too, more power to you. lol
So I pulled out some gray card stock and just cut one long strip and some doubled sided tape.
I just ran the tape down one side and taped it in the center of the clip board then trimmed the length once it was attached.
to print off with the chores that I wanted to do.
I have:
-Clean up dishes
-Put Away Toys
-Dust
-Sweep
-Feed Pets
-Throw away trash
-Laundry
Vacuum
-Make beds/clean room
-Wipe Table
Again, my hopes will be to replace some of the simple tasks as the girls grow and I can entrust more tasks to them.
So I just printed off two copies and got to work.
I trimmed up the cards with a paper trimmer.
Then threw them in my laminator so they would last for long term use.
Don't have a laminator? If you have a Minc machine, you can use that too!! 😉
After lamination, I cut them apart.
Time for the final step, adding the velcro.
Stick one of the velcro sides on the chore card itself…
The other velcro piece onto the clip board.
You will need to use more of the fuzzy side of the velcro because you will need that on both sides of the clip board for each card.
I originally wasn't going to add their names since each girl got to pick the paper for their own board or add the to do and done but decided to add it last minute.
Again you could do this part with vinyl, but I just decided to write them names under the clip with a paint pen and then took white paper and taped it down with the words on it.
I applied the cards for each girl and that's it!
Miss S has: toys, trash, make bed/clean room, clean up dishes, laundry, and vacuum crumbs with our little dust buster.
Miss P has all the same chores but I gave her wiping the tables instead of vacuuming and plan to switch around out every couple weeks.
I hung them in our mudroom using a Command Picture Hanging Strip like I do everything in my house and the girls are excited to use it, so far. lol We'll see how long the excitement lasts.
Do you have a chore chart for your kids?
Allison from
A Glimpse Inside
here again and it is final Must Have Craft Tip and More post of 2016.
The beginning of a new year is a great time to start a new routine and get better organized in all aspects in your life. You can search and easily find any sort of printable to help you organize your life in one way or the other.
Today, I am going to focus on and share with you some awesome cleaning and organizational printables that will help you get 2017 off to the right start.
Cleaning your house is always a daunting task if you don't stay on top of it.
I've gathered some printables that will help you stay on top of your house, keep you on track, and relieve a little bit of stress in your life.
If you clean a little bit every day it can keep you on track but just in case you don't have time to do that, use the weekly schedule to stay on top of your cleaning.
I love that this printable from Freebie Finding Mom and the fact that it gives you tasks to do everyday and also breaks it down by day of the week tasks. It is easy to read and and breaks it down by rooms so you aren't overwhelmed by tackling multiple spaces at once.
Get your kids involved by creating a easy to follow chore chart for them to to daily or weekly tasks.
This Chore Chart from Go Grow Go is perfect to get your kids in on the cleaning too.
It is also perfect if you have teenagers in your house and you want to start to teach them how to properly wash and dry their own clothes.
So you have all these printables to keep you on track with your cleaning schedule but now you have all these papers making a mess and you need to keep track of. How about creating a Cleaning Binder like this one from Clean and Sensible to keep all those papers in one place?
Want to give your house a good top to bottom cleaning but not sure where to start? Use this 31 Day Cleaning Schedule from Fresh and Organized to work your way through your house and hit zones you may not think about when doing normal everyday cleaning.
Now that you've gotten on a good cleaning schedule, let's talk about ways to declutter and organize the items left in your home.
Start by decluttering your entire house one room at a time. This printable checklist from While He was Napping for Ask Anna will help you work through your whole house and declutter and clean as you go.
Want to organize your home or life better but just don't have a lot of time to tackle it all at once? Follow this 52 Week Schedule fro Home Storage Solutions to work at it one week at a time through the whole year.
What if you REALLY want to declutter and get serious about what actually stays in your home?
Be sure to print out this printable checklist from Making Lemonade using the Konmari Method.
And now that your house is decluttered, let's use labels to stay organized.
If you have young kids, print out these Toy Bin Labels from Teaching Mama to teach your young ones how to properly clean up and stay organized.
Do you create your own cleaning products? Print these Cleaning Labels from The Handmade Home to keep everything properly labeled and uniformed looking.
Get that pantry organized with these beautiful editable Farmhouse Pantry Labels from World Label.
And lastly, keep all those storage bins labeled by using these Printable Labels from In My Own Style. Mark them with what's inside and you don't have to rummage through each bin to figure out what's inside.
One more item that will help organize all aspects of your life and home.
This checklist from Home Storage Solutions has everything from Grocery Shopping Lists, Inventory Lists, Contact Information, and much, much more.
I hope that some of these printables come in handy for you in the New Year!
Also, we hope that you all have a very Merry Christmas and a Happy New Year!
We'll see you in 2017 with all new tips!
Your hostesses,
The Scrap Shoppe | Flamingo Toes | Mine for the Making | A Glimpse Inside