It's Thursday evening so that means it is time to party!!!
Show us what you've been working on!
You can visit all of the hostesses at the links blow.
Allison from A Glimpse Inside
Becca from From Gardners to Bergers
Kim from Too Much Time on My Hands
Heather from Twin Dragonfly Designs
Valerie from Occasionally Crafty
Alli from Made with HAPPY
We have just a few easy rules:
1. Become a follower of the blog where you linked up. Or you can follow all of us and that would be awesome too!
2. Share our button or party link in your post or wherever you share your linky parties.
I'm going to start with a few reminders first!
Have you entered the Cricut Expression Bundle Holiday Giveaway?!
Last day to enter if you haven't!!!
It would make an excellent gift for someone or just yourself.
Don't forget about the iPad giveaway as well!
And lastly, if you have decorated for Christmas, I would love for you to link up to my Holiday Open House Party!
Now it's time to party!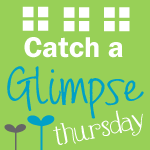 What fabulous ideas do you have to share this week?
1.) Link up any crafts, recipes, home decor, tips, etc.
2.) PLEASE be sure to link to your
specific post
not your general blog. (I will delete any posts that do not follow this criteria.)
3.) Add my button or a link to my blog in your post or somewhere on your blog so others can come party too. (You can find my button code by clicking on the button icon in the top, left column.)
4.) PLEASE visit and comment on the post
before you
and
after you
, on top of any others that catch your eye. Everyone loves comment love!
5.) And most importantly…
HAVE FUN!!
It's the moment that y'all have been waiting for!
Are you ready to know if you are the lucky winner of the Canon T3 with 18-55 Lens?
Well, before I announce the winner, I have two points of business that I'd like to discuss.
First, I just want to take a second to thank all of the other amazing blogs that teamed up with me to make this amazing giveaway happen. You ladies are fabulous and can't wait for more fun collaborations together!
Please also take a moment to thank each of them!
Second, the same group of blogs are teaming up again for another giveaway in November.
Curious to what we're giving away?
It starts with i and ends with Pad…no more hints! 😉
Make sure to stick around our blogs and Facebook pages so that you don't miss more information as the giveaway draws closer.
Now for what you really want to know!
The lucky winner of the Canon T3 with 18-55 Lens is…
*** Comment #16,996: Joan Hayes ***
Congratulations Joan!
I hope you enjoy using your new camera!
So I never heard from 1 of the 5 winners from the Shaklee Basic H Giveaway and I totally got way behind on picking a new winner!
SORRY!!!
But the new winner of the free sample of the Shaklee Basic H is:
Congratulations!!!!
Please email me or leave a comment with your email address so Andrea can get in touch with you. You will have 2 days to contact me!
Oooops!
I was suppose to announce the 5 winners of the Basic H2 Giveaway yesterday and totally forgot!
I'm sorry!!
Here are the 5 Winners:
1. Colleen
2.) Ashleigh
3.) Ashley Williams
4.) Lindsay @ Artsy-Fartsy Mama
5.) Sherry L.
Congratulations everyone!!
You need to comment here or send me an email (allison.michelena@gmail.com) with YOUR email address.
I will then pass your information onto Andrea so she can contact you to get your mailing address.
You have 3 days to contact me or I will have to choose a new winner!

I feel terrible!!
The winner of the giveaway was suppose to be announced at Noon!
It was a crazy day yesterday and this morning so I totally forgot!
But are you ready to know who the winner of the Ooh Baby Designs Giveaway is?

You guys were pretty excited about these Infinity Scarves!
If you aren't the winner, remember you can use the discount code: AGLIMPSEINSIDE to receive 15% off your purchase.
So were you the lucky winner?
If you are commenter number 2 than you are!! 🙂


Was comment number 2 your comment?
Let me remind you just in case you don't remember:

Congratulations The Sieglaff Scoop!
Email me within 48 hrs to claim your prize!
(Email me your scarf choice: gray or nautical blue stripe and your address.)
If I do not hear from you within 48 hrs. I will have to choose a new winner.